Promoting clean, safe, reliable 4th generation nuclear power, 24/7/365
By James Conca at Forbes
It's been 30 years since America built a really new nuclear power plant, but we haven't been idle over this time. A slew of new designs have emerged and, thanks to advances in computing capabilities and the understanding that smaller is better, many of these are ready to be built economically.
This is important. Over the last several years, there has been a growing consensus among climate scientists that nuclear energy is critical for mitigating the worst effects of global warming. States are shifting from Renewable Energy Mandates to technology neutral Clean Energy Standards that include nuclear energy.
So it is good that the development of new nuclear technologies is speeding along faster than most people think. Many new nuclear start-up companies have emerged in the United States, China and Canada, especially those designing small modular reactors (SMRs).
Importantly, all are walk-away-safe, which means the reactor just won't melt down or otherwise cause any of the nightmares people think about when imagining the worse for nuclear power. It just shuts down and cools off.
By James Conca
The Columbia Generating Station nuclear power plant just north of Richland, WA. ENAs Polar Vortices, Bomb Cyclones and massive hurricanes pummel America more and more often, nuclear power plants keep on putting out maximum power when all other sources can't.
For the last month, the Pacific Northwest's only https://www.energy-northwest.com/ourenergyprojects/Columbia/Pages/default.aspx">nuclear power plant has been under a "No Touch" order to help keep the heat on as record cold and snow covered the region. I was stuck in my house for eight days.
https://www.tri-cityherald.com/news/local/article226954819.html">As reported by Annette Cary of the Tri-City Herald, the https://www.bpa.gov/Pages/home.aspx">Bonneville Power Administration, which markets the electricity produced at the nuclear plant near Richland, asked http://www.energy-northwest.com/">Energy Northwest, the operator of the power plant, not to do anything that would prevent the plant from producing 100% power at all times during an unusually cold February across the state that increased the demand for electricity – no maintenance activities, even on its turbine generator and in the transformer yard. Don't do anything that would stop the reliable and constant power output of nuclear.
From sodium-cooled fission to advanced fusion, a fresh generation of projects hopes to rekindle trust in nuclear energy.
by Leigh Phillips February 27, 2019
BP might not be the first source you go to for environmental news, but its annual energy review is highly regarded by climate watchers. And its 2018 message was stark: despite the angst over global warming, coal was responsible for 38% of the world's power in 2017—precisely the same level as when the first global climate treaty was signed 20 years ago. Worse still, greenhouse-gas emissions rose by 2.7% last year, the largest increase in seven years.
Such stagnation has led many policymakers and environmental groups to conclude that we need more nuclear energy. Even United Nations researchers, not enthusiastic in the past, now say every plan to keep the planet's temperature rise under 1.5 °C will rely on a substantial jump in nuclear energy.
Click here to read article in MIT Technology Review
Many people cite "nuclear waste" as the reason we shouldn't pursue more nuclear energy. But there also exists a big disconnect on what nuclear waste, or used nuclear fuel, actually is. And what it isn't.
In this short video (Pt. 1 of 3), Dr. James Conca, a scientist with degrees from Cal-Tech, formerly of NASA, and Los Alamos and Pacific Northwest National Labs, explains the what and the why behind used nuclear fuel and how it is stored.
How much do you know about radiation? In Part II of his series on used nuclear fuel, Dr. James Conca looks at the radiation involved in storing used nuclear fuel and how long it lasts.
In the third and final segment from scientist Dr. James Conca, we look at the safety of used nuclear fuel, the confusion some people have with defense waste - and the need for a long-term repository.
by Tom Blees
­The joys of the coming holiday season have been tempered by the recent IPCC report that paints an alarming picture of our planetary condition. The urgency of dramatically reducing global carbon emissions is real, yet few appear to believe that humans will make the seemingly hard choices necessary to meet the Paris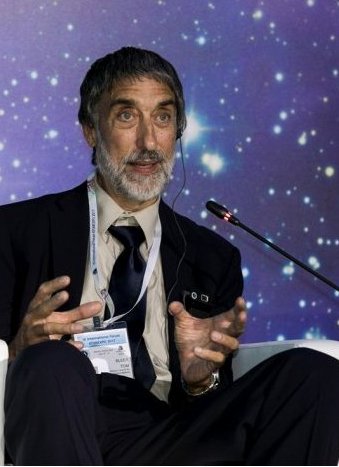 Climate Agreement limits. Seen from the perspective of policy makers, the general public, and even think tanks, the battle seems unmanageable. SCGI, however, is uniquely positioned in the trenches at the front of this battle and we believe that game-changing victories are imminent.
Last month I was invited to attend a nuclear power conference in Mumbai, India. It was a sobering example of what we face. India currently derives less than 3% of its primary commercial energy from clean sources and its "ambitious plans" call for 25% of its electricity to be produced using nuclear power by 2050. Unfortunately, the country's increase in electricity demand by 2050 will be far greater than this planned growth in clean energy because their current per-capita energy consumption is just a third of the world average and the population is growing. In fact, India is set to become the world's most populous country by about 2022. In other words, India, the world's third greatest energy consumer, does not have an energy generation plan that can even pretend to respond to climate change effectively. They are not alone. Neither do most other major nations in the world.
The Science Council for Global Initiatives is a nonprofit 501(c)(3) charitable organization. All contributions are tax-deductible.
© 2019 The Science Council for Global Initiatives | We do not use cookies.
(c) 2014 Your Copyright Info